It has been awhile since I posted, mostly because of the busy Holiday season and mostly because I had nothing to say. Well, I have some things to say and I have some beautiful things that I finally finished to show you!
Firstly and foremost, I made something quick for myself as a post-Christmas present. I was visiting Sarah a few weekends ago and picked up a skein of
Canopy at purlsoho
, by The Fibre Company in Aici. It's a lovely pink to cheer me up and make me look more delicate than I am ;)
Pattern:
Flared Lace Smoke Ring
by Jackie Erickson-Schweitzer
Needles: Addi Turbo US 6 16"
Yarn: Canopy, The Fibre Company in Aici
My big labor of love for my sister was finally finished a few days ago. It was her Christmas present, but I ran out of yarn just days before and I miss my deadline. But no worries, it was finished in time for her to return to school. I got to snap a picture of her before she left and I think she looks pretty happy and cute in her new cozy sweater.
Pattern: 124 Pull V torsadé by
Bergère de France
Yarn: Kathmandu DK (discontinued) in Midnight Blue, Queensland Collection from Webs Sale
Needles: US 2 & 3 Addi Turbo 16", 40"
Mods: None
Now for the political side of life--wasn't Michelle's dress amazing?!! :)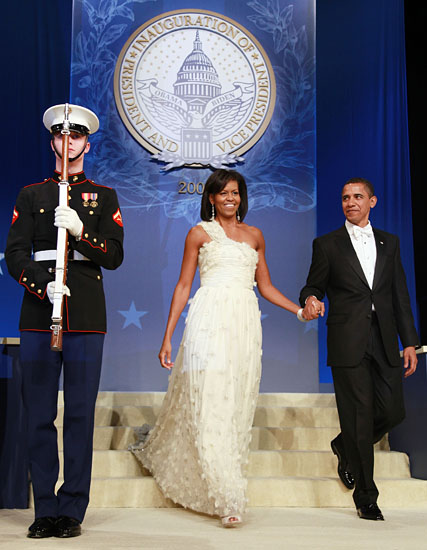 [Huffington Post Photo]
[NYTimes Photo]
It evoked romanticism and new beginnings, as a beautiful white dress should. I am not ashamed to admit that I cried watching the President and First Lady dance while being serenaded at the Neighborhood Ball. It is rare to get to see such a genuine moment of love and adoration in such a commercial world, but the Obama's have reminded us that there is no substitution for the Real thing.